Hyperbaric Oxygen Therapy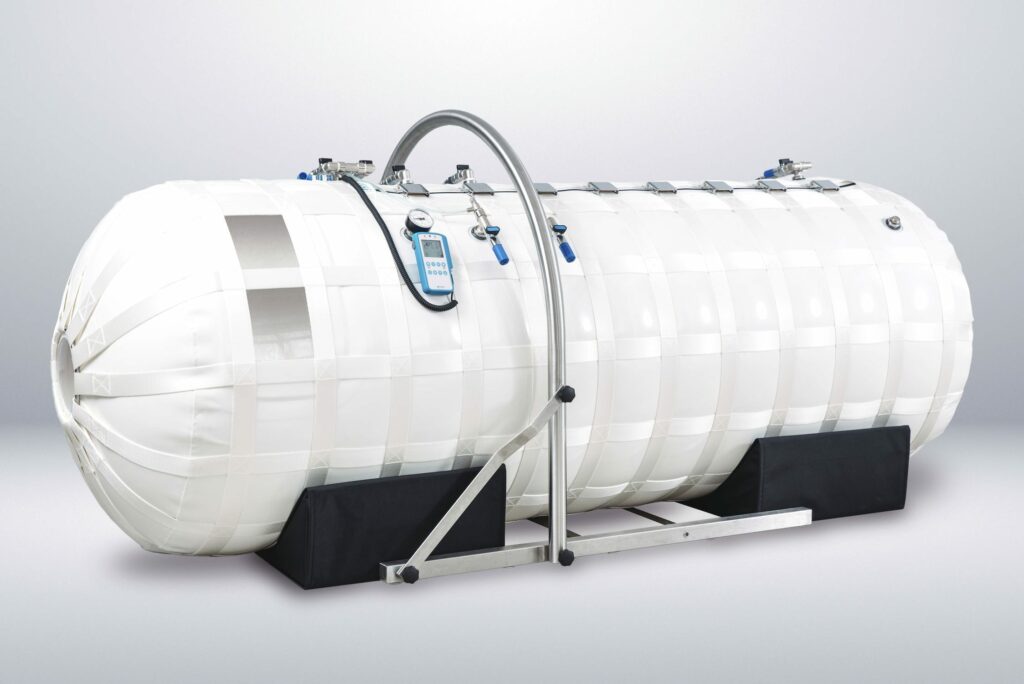 Hyperbaric Oxygen Therapy (HBOT) is breathing oxygen greater than 90% in a pressurized environment. The normal air we breathe carries a concentration of 21% oxygen. The HBOT pressure environment increases our bodies absorption and delivery of elevated oxygen into compromised areas needed for healing and to fight infection. Hyperbaric Oxygen Therapy is a vasoconstrictor which means it reduces swelling and inflammation in the body..
It increases new blood vessel growth and creates the formation of new neurons by producing collagen & new capillaries. Oxygen rich blood reaches areas of blockage or low blood supply from injury.
Medical Grade HBOT System by AHA Hyperbarics
Accelerated Healing Physiologically with HBOT
Pre/Post surgery healing
Concussion healing
Radiation tissue and bone damage healing
Nerve tissue regeneration healing
High Oxygen tissue perfusion
Tendon, Ligament and Spinal Disc healing
Wounded tissue and internal organ healing
Sports performance preparation and competition recovery healing
Creates a holistic full body cascade healing process
PRICING:
Self pay rate $200 per session
Group packages available
Hyperbaric Oxygen Therapy is covered by Insurance for certain diagnoses including but not limited to:
Post Radiation treatment
Concussion and Mild Brain injury
Hyperbaric Oxygen Therapy may be covered for other conditions based on Insurance review
Lyme Disease
Migraines
Pain Management
Bone Healing
Multiple Sclerosis
Click here to see if your plan covers HBOT therapy
Working pressure of the chamber:
200 kPa (2.0 bar, 2.0 ATA or 15 psi)
Pro-10 Oxygen Concentrator three unit system rated for a 15psig chamber pressure.
94% Oxygen Concentration supply up to 21ml/min with a medical grade direct breathing line.
Premium AHA Flex V2 medical chamber
Working pressure of the chamber:
200 kPa (2.0 bar, 2.0 ATA or 15 psi)
Certificate: Class IIb Medical Device (MDD 93/42/EEC)
Manufactured in accordance with EN ISO 13485:2016 quality management system standard
Designed according to EN 14931:2006 (PVHO)
Oxygen Concentrators and Compressor:
Delivers up to 97% Oxygen Concentration direct with closed BIBS system
Filtered Ambient Air compressor for chamber pressurization
Unequaled strength:
Strongest chamber of its kind in the world – designed for 3.0 ata (300 kPa) of pressure
Higher pressure and higher oxygen concentration capability result in enhanced healing effects
Specially patented three-layer design
Strong and durable custom-built urethane material
Safety and quality:
Bright and semi-transparent interior
Six high strength windows
High quality stainless-steel fittings
Compatible with 100% oxygen
Oxygen monitoring analyser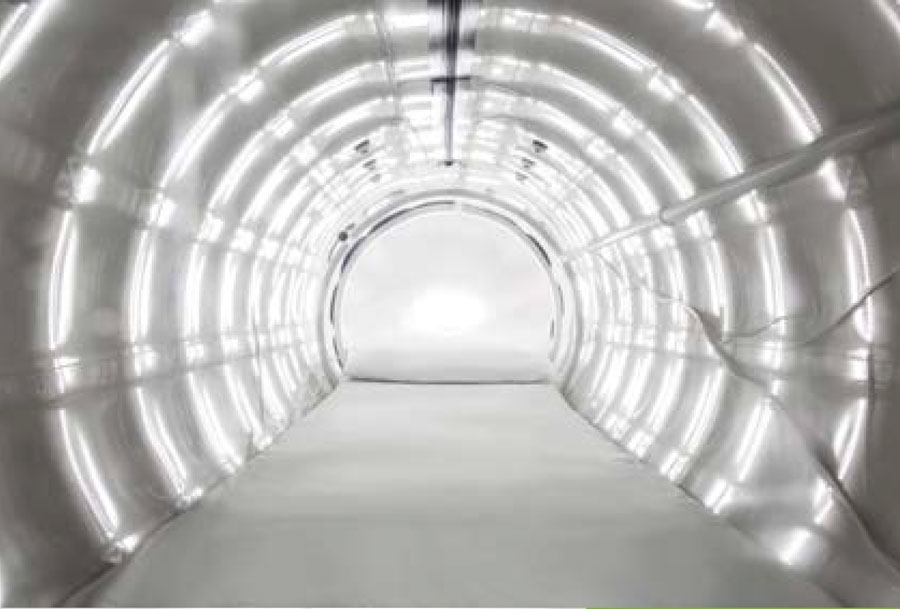 Chamber consists of:
Internal frame, mattress, anti-roll bolsters, air hose, instruments, special breathing system with over-board oxygen exhaust, oxygen monitoring analyser.
Special Considerations of Risk
Certain medical conditions and medications are not compatible with hyperbaric therapy. These conditions are, but not limited to:
Congenital spherocytosis
Current upper respiratory infection
Chronic sinusitis
History of middle ear surgery or problems
Patients with severe emphysema
COPD
History of seizures
Pneumothorax and collapsed lung
Those who are currently pregnant
HBOT may interrupt the effectiveness of certain medications.
Patients who are prescribed the following medications should check with their primary medical doctor before seeking hyperbaric oxygen therapy:
Cisplatin
Disulfiram (antabuse)
Doxorubicin (Adriamycin)
Bleomycin
OTIC BAROTRAUMAL: This is a condition of injury to the eardrum. Severe ear discomfort can be caused if you cannot equalize pressure in your ears. As the hyperbaric chamber is pressurized (at the beginning of your session) and also as it is depressurized (at the end of the session) you must equalize the pressure in your ears to acclimate to pressure changes. If your ears do not clear or you experience continued ear pressure, please notify the attendant immediately. The attendant can lower the pressure level, but if this problem persists the session must be discontinued.
PAIN FROM SINUS, HEAD COLDS, VIRUS, OR FEVER. You should not schedule a hyperbaric therapy session if you are suffering from any of these conditions. Discomfort from these conditions is less frequent, but it may occur in people with chronic or acute sinus infections. If you experience discomfort, please communicate with your attendant and the treatment will be discontinued.
PULMONARY HYPEREXPANSION (HYPERINFLATED LUNGS): This condition is extremely rare for hyperbaric oxygen treatments. However, to be overly cautious, holding your breath during a decompression must be avoided as it could lead to expansion of air in your lungs and damage the lung tissue. In the highly unlikely event of an unexpected rapid decompression, it is critical you exhale immediately.